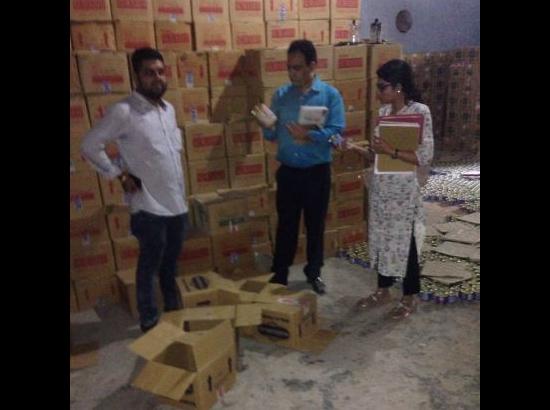 Nawanshahr, October 14, 2017: With a view to ensuring quality of food during the festival season, the Food Team comprising , Manoj Kumar Khosla Assistant Commissioner, Food and Sangeeta Sehdev, Food Safety Officer have been conducting raids and taking samples of raw food materials, eatables and as well as taking stock of the sanitation and hygiene at places where the eatables are being prepared.
So far, the team has collected more than 300 samples by conducting raids at different shops. At least 40 samples of sweets and other eatables were collected from different places during October.
Today, the team raided the factory of Gurudayal Chandan, Rail Majra in Balachaur sub-division of the district and seized about 10 quintals of desi ghee contained in 44 tins of 15 kg each and 3 drums containing 3.40 kg each. The ghee was to be sold under brand name "Surabhi Ghee". Its stock was suspected to be adulterated during the preliminary investigation as one of the partners present there, Chiranjit couldn't produce any sale purchase record.
"The raid was conducted on a secret information. The team took sample of desi ghee for analysis and the entire stock of desi ghee has been sealed and kept in the safe custody of the firm under surety bond. The account books and relevant documents of the firm have also been taken in the custody for further investigation as per Food Safety Act. The firm was also packing paneer in tins and sample of the same has also been taken. The samples will be sent to food lab for analysis and further action will be taken if the samples failed the quality tests under Food Safety and Standards Act", said Manoj Khosla and Sangeeta Sehdev.